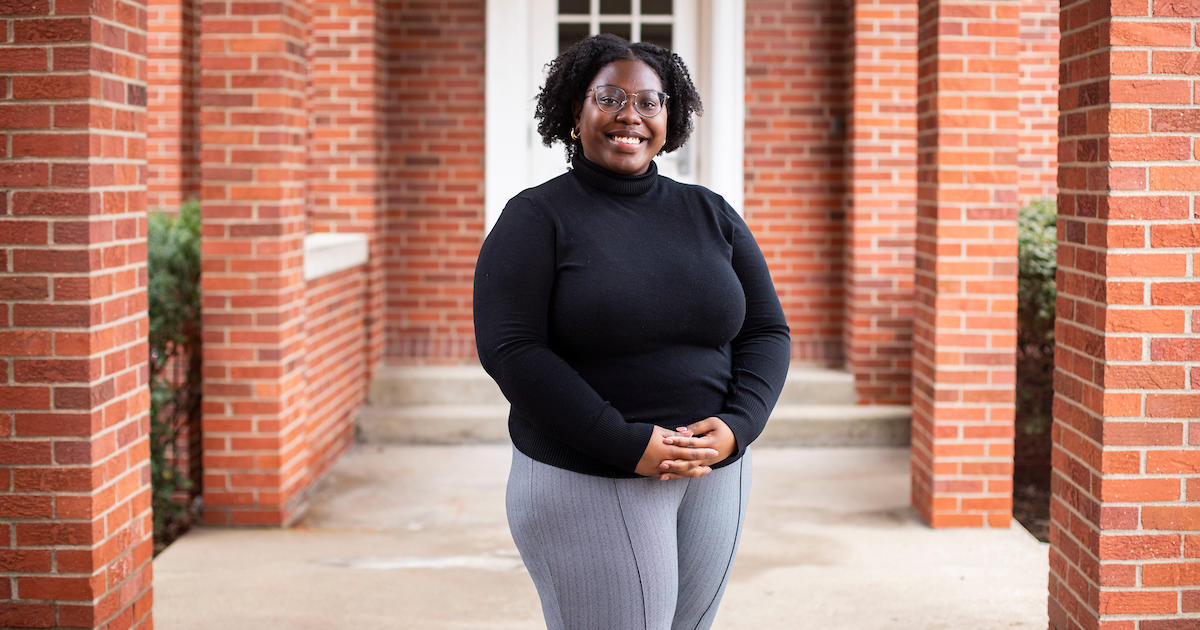 LEXINGTON, Ky. (March 4, 2021) – In response to the COVID-19 pandemic, the University of Kentucky gathered the UK Health Corps – a dedicated team of staff to support students. But what exactly are they doing? And who are you?
While many students and faculty / staff interact with members of the Health Corps on a regular basis, you may not know exactly what they do every day and the names behind the phone calls and emails.
The UK Health Corps works behind the scenes, serving as a support hub for accessing services, information and recommendations related to COVID-19 for students, faculties and staff.
UKNow sat down with contact tracers Maya Cleveland and Christine Schraff to find out who they are, what they are doing for the UK Health Corps, and what students should know.
UKNow: Can you describe your role in the Health Corps?
Cleveland: I am a contact tracer with the UK Health Corps and my job is to identify anyone who may have come into contact with a person infected with COVID-19.
Hatching: I am a contact tracer case manager. I am also a licensed RN.
UKNow: What does a typical day in your role look like?
Cleveland: I am calling people who have tested positive for COVID-19 to inform them of their test result. I then collect basic demographic and health information, which is important data for the CDC and the health department. I'm going through their contagious times to see who they could have exposed. Once we identify these people, we will call them and let them know that they should be quarantined. If they contract COVID-19 while in quarantine, this is not how they spread it to others.
Hatching: I will notify students and staff of their positive COVID-19 test. I do a small health assessment and teach about COVID-19 signs and symptoms, including what to look for and when and who to contact if symptoms start or get worse. I isolate people and discuss why it is important to isolate, how to isolate safely, and together we develop an isolation plan. I assess the resource needs that could keep them from isolating themselves, such as food, medication, mental health services, and academics. I then do contact tracing to see who they may have been exposed during their period of infection and if they know how they were exposed.
I create a timeline of daily activities going back two days before symptoms start or the COVID-19 test date if they are asymptomatic. If an exposed person is linked to the UK, I will create a case on our secure system so that the student or staff member can be contacted and quarantined. Contacts outside the UK will be shared with the local health department where the exposed person lives for follow-up and quarantine case management. We then go over what to expect, e.g. B. "Look out for contacts from the local health department." The local health department will determine when the student or employee can be released from isolation, usually 10 days after symptoms begin.
UKNow: What do you want the community to understand about your role / health corps?
Cleveland: We want the community to know that we just want to protect everyone. We don't want to appear invasive, but all the information given to us is really important and helpful in containing the spread of COVID-19.
Hatching: I am here to help and support you.
UKNow: What will be the first thing you will do when the pandemic is over?
Cleveland: Travel!
Hatching: Travel – Portugal is high on my list.
UKNow: What would you like students to know about what you are doing?
Cleveland: I want students to know that the UK Health Corps is a resource for them. We support students, teachers and employees who are infected or exposed to COVID-19. We can connect them to a variety of resources to best suit their needs.
Hatching: I'm here to provide education and support, develop a personalized care plan, help with any resource requirements, and make it as easy as possible.
UKNow: What do you think is the biggest misconception people have about the Health Corps?
Cleveland: The UK Health Corps is not supposed to punish people for living their everyday lives. We value transparency and honesty and therefore people are not punished for telling the truth. We want to protect the campus community and that requires responsiveness.
Hatching: We are not the bad guys. We are not judgmental and not affiliated with law enforcement. All information we receive is confidential and will only be used for public health contact tracing. We're just trying to keep our campus and community safe and healthy.
UKNow: If you could sum up in one sentence what Health Corps is and what it does for campus, what would you say?
Cleveland: The UK Health Corps is a support center for our students / staff who are infected or exposed to COVID-19. We are here to reinvent a new normal.
Hatching: We're an interdisciplinary group made up of communications, wellness connectors, and contact tracer case managers working to keep the campus and community safe and healthy.
The UK Health Corps is made up of 50+ dedicated staff who are committed to keeping our campus healthy and safe by managing everything from contact tracing to academic coordination, transportation and communications. For more information on the schedule of activities or the UK Health Corps, call 859-218-SAFE (7233) or email [email protected].
As the University of Kentucky commemorates a year fighting COVID-19, we are reminded of our promise to the Commonwealth and each other. Every corner of our campus – from UK HealthCare to Athletics, from our Emergency Operations Center to volunteers at our health colleges and this university – has come together for a common purpose. And when members of our community come together with the heart to improve, there is almost no challenge too great, no obstacle too daunting to overcome. It is because of this community – their resilience, compassion, and expertise – that we have learned what is absolutely possible, even in the face of a global pandemic.