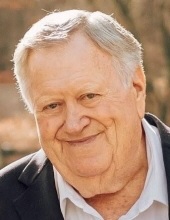 Timothy Ervin Cook Sr., 82, of Cleveland, died February 6, 2021. He was born on July 9, 1938 in San Diego, Ca. to the late Florian and Ruth Cook. Tim moved to Cleveland from Hot Springs Village, Ar in 1994. He was a member of the First Baptist Church in Cleveland. Faith was the most central and meaningful part of Tim's life, closely followed by his family. He will be forever remembered for his great stories and the way he has inspired many through encouragement and kind words. Tim never met a stranger. He loved traveling, fishing, attending sporting events, and was an voracious reader. He was very much loved and will be greatly missed by everyone who knew him.
He leaves his loving wife, Betty Cook, 51 years old, to keep his memory. three children, Bonnie Hensley and husband Jamie von Harrison, and their children Ryder and Hudson; Tim Cook Jr. and his wife Julia and their children Grayson, Tripp, Lilly, and Cyrus Cash of Seneca, SC; and Cal Cook and his wife Cande and their children Cooper and Caroline of Mt. Pleasant, SC.
A private family reunion will take place at a later date.
Donations in memory of Tim can be made to St. Jude Children's Research Hospital at 501 St. Jude Place Memphis, TN. 38015.
Share a personal memento of Tim or condolences with his family on his online memorial at www.companionfunerals.com.
Companion Funeral & Cremation Service and the Cody family are honored to assist the Cook family with these arrangements.