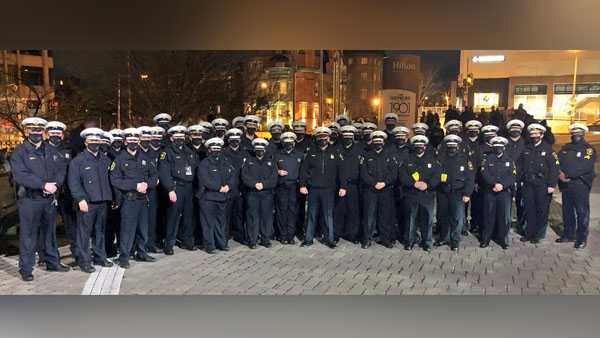 Security at the nation's Capitol is tightened just a few days before the president's inauguration. Police officers from the greater Cincinnati area are part of the security effort. It is common for police officers to travel to Washington DC to help with housewarming security. Forty officers from the Cincinnati Police Department drove to DC on Monday. Three officers from the Bellevue Police Department are also in DC to work. The officers were sworn in on Monday evening and received their assignments for the week. "It's what we signed up for and what we do. We take our job seriously when we have to and we will do everything in our power to make sure it is." that nothing happens, at least about the things we are in control of, "said Lt. Jon McClain of the Bellevue Police Department." I know that recent events make things a little different, but it is Kind of job you sign up for. "McClain said he was honored to be part of the dedication and he was grateful for the community support." We have received many warm wishes and prayers from our church and we really are proud to represent the great city of Bellevue, "said McClain." I think when you come to DC for a security detail like this, there is always something in the back of your mind that could happen. Otherwise, they would not call in officials from across the country. This is what I look like. You're here in case something happens. «WLWT spoke to Lt. Adam Hennie of the Cincinnati Police Department minutes before officers loaded the bus to head to DC on Monday morning. "It doesn't matter which side of the aisle you are on. This is a very special event," said Hennie. "We know the whole world is going to be watching and we just want to make sure it's safe for everyone who will be there. Just being a part of something like this is an opportunity for life and I'm just happy to be a part be of it. "
WASHINGTON –
Security at the nation's Capitol is tightened just a few days before the president's inauguration. Greater Cincinnati police officers are part of the security effort.
It is common for police officers to travel to Washington DC to help with housewarming security. Forty officers from the Cincinnati Police Department drove to DC on Monday. Three officers from the Bellevue Police Department are also in DC to work.
The officers were sworn in on Monday evening and received their assignments for the week.
"It's what we signed up for and what we do. We take our job seriously when we have to and we will do everything in our power to make sure nothing happens, at least not at our end of things, over which we are in control. " "said Lt. Jon McClain of the Bellevue Police Department." I know recent events are making things a little different, but it's the kind of job you sign up for. "
McClain said he was honored to be a part of the dedication and he was grateful for the community's support.
"We have received many warm wishes and prayers from our ward and are really proud to represent the great city of Bellevue," said McClain. "I think when you come to DC for a security detail like this there is always something in the back of your mind that could happen. Otherwise, they wouldn't call in officials from across the country. This is how I see you are here in case something happens."
WLWT spoke to Lt. Adam Hennie of the Cincinnati Police Department minutes before officers loaded the bus to head to DC on Monday morning.
"It doesn't matter which side of the aisle you are on. This is a very special event," said Hennie. "We know the whole world is going to be watching and we just want to make sure it's safe for everyone who will be there. Just being a part of something like this is an opportunity for life and I'm just happy to be a part be of it. "