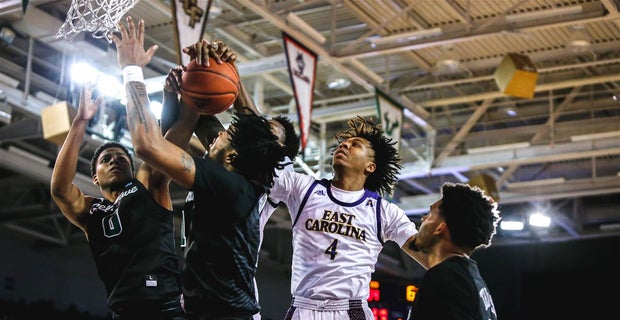 The 4-7 Cincinnati Bearcats will be aiming for their second straight win since the long break when they travel to New Orleans on Sunday to face the 7-6 Tulane Green Wave. Not only is this a chance to maintain what started Thursday night, but it would also be the first time this season that John Brannen's squad has won games in a row. I'm really looking forward to 12 noon on ESPN +.
(Photo: Savanna Elkins, 247Sports)
Well that was fun wasn't it? A 25-day layoff and the uttermost unknown of the current roster make-up would make any fan just happy that Bearcats Basketball was back. A starting grid with two first starters Mike Saunders Jr. and accessible Rob Banks further stressed that once normalcy has been restored, patience may be required. Then the team came out aggressive and determined. Water found its stand for David DeJulius and defense really was the calling card. All of this resulted in a 31:23 lead at halftime and a sudden change from "man, I'm happy basketball is back" to "wait a minute, we could win this game".
The second half featured the fights of a team that had been out for almost a month, but in the end it was a senior and a shining star who made the right games for a win. Chad broke the game down more like his Brendel's bytes but I just cannot stress how powerful the rise of David DeJulius will be for the Bearcats. John Brannen preaches about the ability to find his primary ball handler during the year, and DeJulius has shown that he will do whatever he can to help his team win. The thing was, he did so many other things when his shot didn't go off but the team didn't win. The shots were fired on Thursday and the result was a victory.
With around 8 minutes to go, Temple built a 4 point lead and was in the middle of a 16-4 run. The powerful security guard made a personal 4-0 run to regain the lead, splashing 7 of his career high to 26 points. Keith Williams and Jeremiah Davenport Definitely worth a mention too, but if that confident and confident David DeJulius stays here, the outlook for this season and next will take it to a whole new level. The next chance to see if this is the case comes quickly with a trip to the Fogelman Arena and a chance to do an impressive job for John Brannen and his staff.
During the regular AAC championship last year, Brannen and his staff defeated every team at the conference but one. A frustrating trip to Tulane last year resulted in an inexplicable loss of 76-71. This makes the Green Wave the last team in the USA that has yet to be conquered. Sunday afternoon is the first of two chances this year and Ron Hunter will be rolling out a completely different team.
Hunter had to replace 85% of his rating and 4 starters from one season. In fact, that year, Tulane had 7 different starting lineups in 13 games while adding six new players to the rotation. They have played some solid defensive games but overall their offense has been cruel. The biggest sustainable factor is that you can never underestimate a team trained by Ron Hunter.
Let's take a look at the Green Wave.
Until now
Tulane opted for the sugary cupcake route as there were several varieties of sweet victories on display outside of the conference schedule. Lamar, Southern Miss, Arkansas Pine Bluff, and Grambling State were easy, but a visit from Lipscomb provided a measuring stick and a familiar opponent for the Bearcats to face. The bisons were connected to the green wave a little more than 3 minutes before the end, but were able to record a 68-66 victory. A 5-0 outside of the conference is not at all a clear indicator for this team.
The conference game was a different story. Tulane sits at 2-6 and both wins come against the lowest tier of the AAC. They lost the 6 games by an average of 13 points, including the losses to both teams they beat. The two wins were home for ECU with 4 and a surprising, now relevant win in Temple 81-64. They will try to pressurize the ball to force sales but give up some offensive rebounds due to their small size. On the offensive, they fought mightily, while having only scored more than 68 goals in three games this year and ranked 333rd nationwide for the effective percentage of field goals. They have a cast of large transfers and a couple of players who can fill it up on any given evening. Let's take a closer look.
Projected starters
25-Jaylen Forbes-6-foot-5, SO Guard, Alabama
-2020 Season- 15ppg, 4.9reb, 0.8ast, 34.8% 3pt (92att), 53-65ft, 81.5%
Former 4-star recruit and Alabama Crimson Tide Guard quickly took the lead for Ron Hunter where he has scored double digits in every game but 2. He is a fantastic long distance shooter who had a bad game last time in Wichita State where he went 0-8. Take away the game and he'll shoot 38% on 84 tries. He is also distinguished by the fact that he can reach the free-throw line and knock it down. He will be defending and taking care of the ball, which makes it a great matchup Keith Williams slow it down.
2- Jordan Walker- 5-foot-11, JR Guard (Seton Hall)
-2020 Season- 13.5 ppg, 2.2 reb, 3.8ast, 1.7 stl, 34.9% 3pt (63att), 86.8% ft
Walker is lightning fast and a member of the "Jelly Family" for his finger rolls. He started at Seton Hall but is one of three returning players a year ago. He has lost an average of 18ppg in the last 3 competitions. Walker will use his speed to cut down on defenses and find open players while also being able to reach the free throw line and make money. He will defend to enforce turnovers and is largely the only traditional point guard for the Green Wave. David DeJulius should be up to the task of keeping up with the quick watch.
5- Kevin Cross- 6-foot-8, SO striker (Nebraska)
-2020 season- 7ppg, 4.8reb, 1.1ast, 11blk (leads team), 80.6% ft
Cross is the last of the previous big transfers expected to be on the grid on Sunday. He was actually a strong member of Nebraska last year, losing 23 points and losing 9 rebounds in one of the final games of college basketball season against Indiana in the Big 10 tournament. He has only hit double digits twice this year but will work hard defensively and clean the glass. He could be a matchup problem Chris Vogt when the bearcats grow up.
3- Tylan Pope-6-foot-6, FR Forward
-2020 Season- 6.4ppg, 4.7reb, 2oReb, .5ast, 3 GS, 15.4min
The Redshirt newcomer has recently been there and has found himself on the grid in 3 of the last 4 games. Playing bigger than his size suggests, he won a double double on the street in Temple. He is not a long-range threat but has scored double digits in each of the last three games. Tari Eason or Jeremiah Davenport should be able to frustrate Pope all day.
1- Sion James- 6-foot-5, FR Guard
-2020 Season- 5.5 ppg, 4 reb, 2.1ast, 1.2 stl, 82.1% ft (28att), 9 GS
James is a tall and athletic combo guard who gets precious minutes early in his career. He's best as a defensive stopper, but he'll help and score on the boards when he gets the chance. Mika Adams-Woods should do his best to negate whatever the newbie is trying to do.
Bank starter
0- Gabe Watson- 6-foot-2, JR Guard (Southern Miss)
-2020 Season- 8.8 ppg, 2.2 reb, 1.8ast, 23.5% 3pt (51att), 24.9 min (6 GS)
Watson hasn't started the last three games after starting 5 in a row, and his performance in the state of Wichita won't do anything to change that. In 18 minutes, the Transfer Guard missed all 6 of his shots and only reached for 3 rebounds. It was a game to forget but he has hit double digits 6 times and will be part of the game plan to slow down.
23-RJ McGee-6-foot-5, SO Guard
-2020 Season- 4.3ppg, 4.1reb, .9ast, 75% ft, 19.5min (6 GS)
McGee is the second of three players to return from last season and has been very inconsistent this year. After the first 6 games of the year, he averaged 8.2 ppg and 5 reb, including 4 starts. In the last 7 he started 1 game, missed all 7 deep balls and only scored 7 points in total. It should be important to make sure that it has no effect.
4- Nobal Days- 6-foot-9, SO forward
-2020 season- 2.3ppg, 3.1reb, .8ast, 7bl (2nd in the team), 19.7min (5 GS)
Days is the last of the season's returning players to play on Sunday. He may get a few extra minutes to fight Chris Vogt with the Bearcats big man on the ground, but much like McGee, he was inconsistent. He has started twice in the last 6 games and only scored in two of them.
Final thoughts
First of all, let's all cheer a little so that the AAC will move the start time of this game to 12 noon on Sunday. A 6pm start time with the Super Bowl was a big problem. Now let's quietly cheer that after almost a month without that luxury, we're getting the second Bearcats game of the week. As emotionally exhausting as the games have been over the past few seasons, there is no greater joy than seeing red and black on the floor, and like Thursday night, it's even better when they win. That brings me back to a statement I made earlier about the fact that in about a year and a half of conference play, John Brannen beat every team in the AAC except Tulane. Brannen mentioned that the extra time it took to destroy Temple contributed to a game plan that was perfect for defeating the owls, and while he might not say so, I'm also envisioning a glimpse of the Green Wave.
What you would see is a team that is very well trained and does the little things right, like defending to the best of their ability, not turning the ball and taking free throws. What you will also see is a team that lacks little to no shooting, that is no size, and that is incapable of holding up against a superior competition for a full 40 minutes. Have the Bearcats achieved the superior competitive aspect again? In three of the last four games, Cincinnati has looked good and sometimes great. Wins 27 minutes of solid basketball in the state of Wichita on the street against SMU and Temple Sandwich. A poor shooting team has been slowly cleaning up that part of their game, and as we're all used to, the Bearcats have stepped up their defenses significantly.
It is not yet known whether Zach Harvey and Mamoudou Diarra will be available for Sunday afternoon but this team has been known to believe in themselves. David DeJulius and Jeremiah Davenport believe in themselves while Keith Williams and Chris Vogt continue to play the seniors for victories. The newbies have all shown improvements that can only be well promised if February continues. This Sunday, before everyone prepares for the Super Bowl, the Bearcats have the chance to continue their triumphant advance. Midday on ESPN +, where KenPom picks visitors up as a 6-point favorite, could tell us even more about the prospects the rest of the way. Brannen mentions that his teams will get better as the season progresses. We hope this is another example.