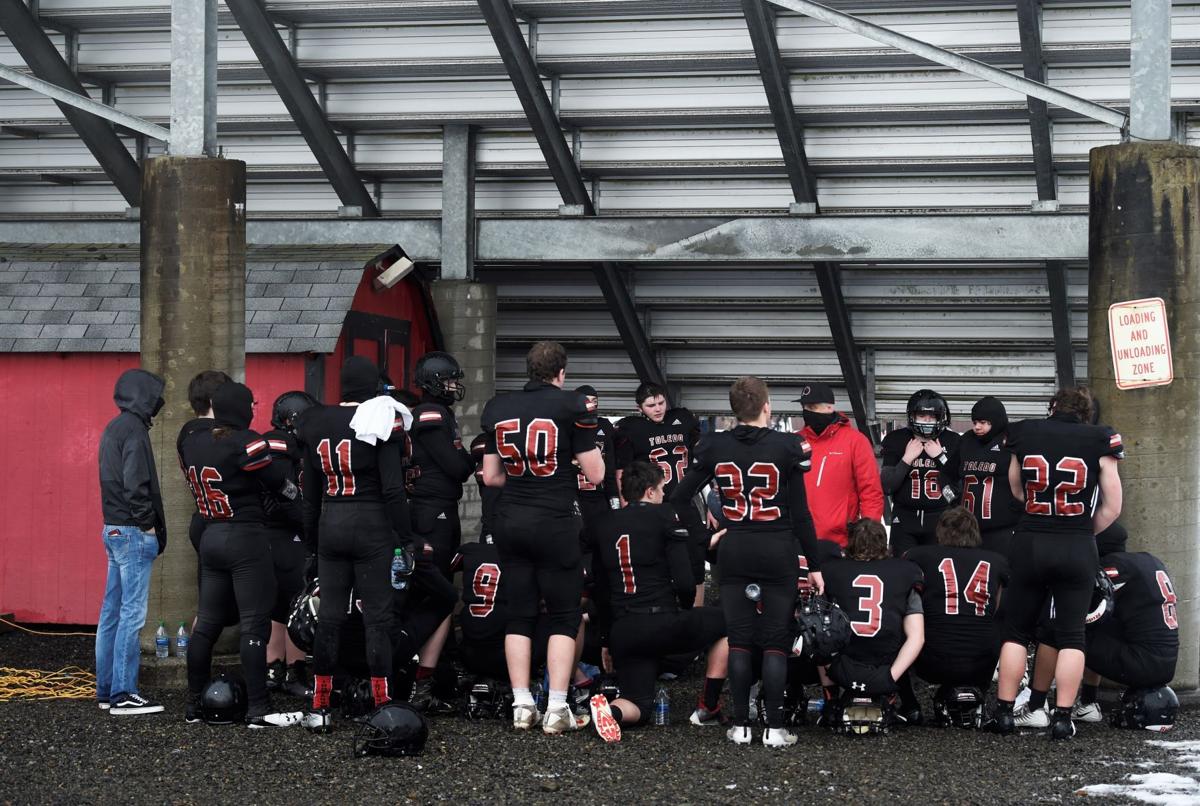 The Toledo football team gathers under the stands during a home game against Rainier, Washington, on February 15. Due to the precautionary measures of COVID-19, teams are not allowed to use locker rooms before, during or after the games. Toledo went to Menlo on Friday February 19, defeating Pe Ell-Willapa Valley 29-7 to improve 2-0 over the season.
Jordan Nailon
The Daily News Sports Staff

MENLO – For a quarter, Toledo played like a team still playing in half a foot of snow. Finally, the Indians shook off the cobwebs on the offensive and scored a 29-7 win over Pe Ell-Willapa Valley on Friday evening in a 2B soccer affair.
"I am very happy with the way we played defensively," said Toledo coach Mike Christensen. "Offensive I was a little frustrated for the first quarter and a half, but after that we looked like we mostly wanted it."
These offensive problems dug a hole for the Indians early on. On his first possession, the Toledo Offensive fumbled the ball away on its own territory, but the Indian defenses were able to hold on and avoid permanent damage.
On his second possession, the offensive fumbled the ball away again and gave the titans the ball with a short field to work with. Then the Indians committed this major sin again on their third voyage. Both times, however, the defense held on again.
"It was just one of those hard-to-tell things about but we fumbled the snapshot, we fumbled a handover, we had a nice run fumbled on," said Christensen. "Such things. We just didn't click the way we normally do. "
On their fourth trip, the Indians practically wrapped the Titan Points as a gift by fumbling them away for the fourth time in the first quarter. This time the turnover was on their own 1-yard line, and this fourth time was the stimulus for the PWV offense, which finally broke through on the shortest field and took a 7-0 lead.