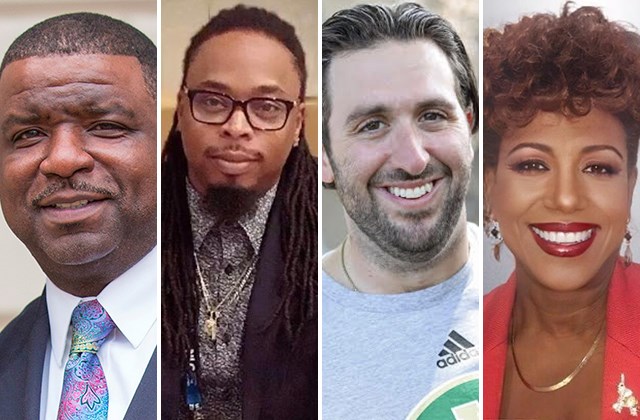 Youngstown's mayoral candidates share their focus on the city's future, including fighting coronavirus, developing businesses and retaining young people in the city.
YOUNGSTOWN – The Youngstown Mayor's Race is ongoing as four candidates have been submitted by February 4th.
Acting Mayor Jamael Tito Brown will face two major Democratic Party challengers on May 4th: Julius Oliver and Ryan Kelly. Tracey Winbush is the only Republican candidate who has submitted.
Jamael Tito Brown, Democrat (incumbent)
Jamael Tito Brown, a lifelong resident of Youngstown, became the city's 51st mayor in January 2018.
Brown said the city has changed a lot over the past four years at both the federal and state levels. Youngstown's reputation problems with corruption and bad politicians have excluded the city in recent years.
"We've come this far, but there is still so much to do," said Brown.
Brown said the COVID-19 pandemic has exposed severe health inequalities, especially among the minority community. Brown and his team have focused on making testing and vaccinations more available.
With the help of Governor Mike DeWine's Minority Health Task Force, Brown said he wanted a healthier community out of the pandemic.
He also wants to ensure that workers who have lost their jobs due to the pandemic have access to training opportunities for workforce development and skills. Brown said small businesses and entrepreneurs who lost their business due to the pandemic need to recover.
In his second term, Brown focused on creating renewable energy jobs in the Mahoning Valley. With partners in the city and region, he wants to ensure that the city has a workforce that is ready to be part of the "Voltage Valley," which includes the electric car manufacturer Lordstown Motors and General Motors' new battery plant in Lordstown, Ultium Cells LLC.
"It's all about recovery, but we want to make sure we're healthy when we get to that point," Brown said.
Brown said he would also like to see more high quality, affordable housing in town. Housing was part of weekly meetings with DeWine and mayors across Ohio.
The Youngstown Police Department must be at the forefront of 21st century policing by strengthening community policing with an emphasis on social and mental health, Brown said.
Police work in the community will drive officers to go to the neighborhood, not just when there is a crime, Brown said. The police will be able to know the community and the people they serve.
Julius Oliver, Democrat
Julius Oliver was elected to the 1st municipality in 2016. A lifelong resident of Youngstown, he also owns Kingly Hand Wash and Wax, a Front Street car wash that he founded in 2008.
Oliver said he wasn't interested in just winning an election – he was interested in changing and realigning the city's priorities.
"The people of Youngstown are really what I want to focus on," said Oliver.
For the past several years, Oliver has worked to find ways to grow the community by investing in companies and keeping young people in the community. He said this was especially important with the pandemic's impact on the city.
"If you keep young people here, they will change the environment," said Oliver.
Oliver said he wanted to start a city-centered youth program that would provide resources and funding to young people. The program will create opportunities to serve the city's youth from elementary school to college.
He also wants to work with Farmer's National Bank and other banks to provide loans to citizens to renovate existing homes, rather than using the loans to demolish homes.
In order to achieve these goals, the city needs a mayor's administration that is there for them.
"It's not about leadership being powerful. It's about leadership driving you, "said Oliver.
Ryan Kelly, Democrat
Ryan Kelly is a lifelong resident of Youngstown and opened a location for Belleria Pizza in 2008 after graduating from Ursuline High School in 2008.
Over the years, he owned four Belleria Pizza locations and Kelly's Bar and Grill on Mahoning Avenue. He eventually sold three of the pizzerias and the bar.
He now owns Belleria Pizza in Columbiana and is also a member of the Youngstown City Health District's health committee.
Kelly said he wants to make Youngstown a place where young people can grow up and stay when they grow up. Kelly said he was focused on jobs and economic development for the city.
"We're focusing on Youngstown first," said Kelly.
He said Youngstown needs to use the resources it already needs to grow. He wants to see what the city can do for companies to help them grow every year and keep them sustainable in the future.
Kelly said he also wants to find ways to get the city's young people more involved by expanding after-school programs or providing more jobs.
He said Youngstown needs to give people the opportunity to stay in town and raise their families.
"There are a lot of good young people here who leave if we don't give them a chance," said Kelly.
Tracey Winbush, Republican
Tracey Winbush is the only Republican candidate in the election. She has lived in Youngstown and the Mahoning Valley for most of her life and hosts the radio talk show "Tracey and Friends". She was a board member on the Mahoning County Electoral Board.
On Friday, she resigned as a board member to officially launch her campaign for the mayor.
"I don't think we're actually taking advantage of the positive aspects of Youngstown and using them the way we should," said Winbush.
Winbush is committed to their campaign about Youngstown and the Mahoning Valley.
"It's about you. It's about us. It's about living here," said Winbush.
Winbush said her focus is not on Youngstown's recovery from the pandemic, but on Youngstown's recovery from Youngstown's history.
"We just have to seize the moment everyone else has caught up with us and show them how to be a 21st century city," said Winbush.
Winbush wants to focus on education, economic development and quality of life issues so that people can move to and stay in Youngstown.
"It has to be an elevator that we all do together, not just the mayor's office," said Winbush.
Winbush said the Youngstown City school district was struggling before the pandemic and had moved to online classes. She said education has changed and schools need to be rebuilt to accommodate the changed educational model.
She said more jobs need to be created with the people and resources that already exist in Youngstown and the Mahoning Valley. This includes partnerships with Youngstown State University, America Makes, the Youngstown / Warren Regional Chamber, and other companies.
"We have to build hope that people can believe in Youngstown again," said Winbush.