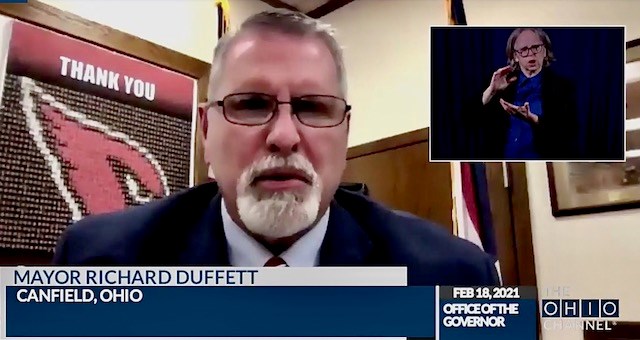 Failure to meet the deadline is "just unacceptable," the governor said during a special address last week. But he appeared to be pulling back on Thursday, even putting the spotlight on Canfield's efforts to fight the COVID-19 pandemic.
COLUMBUS – The main focus of the state was on Canfield's efforts to fight the COVID-19 pandemic during Governor Mike DeWine's coronavirus briefing on Thursday.
In early November, when COVID-19 skyrocketed across the country, DeWine encouraged local leaders to step up.
To combat the spread on the ground, Canfield Mayor Richard Duffett formed a COVID-19 task force to increase community compliance with public health measures.
At the the first meeting of the task force on November 6thDuffett said he didn't speak to people who didn't wear masks in public. But he started and encouraged others to do the same.
"We've already had people say it'll be gone by election day," Duffett said in November. "Well, that has come and gone and it isn't."
During Thursday's briefing, Canfield Local Schools' superintendent Joe Knoll also discussed his strategies to keep the district open during the pandemic.
For example, he relies on parents to check their children for symptoms before they go to school, and the district has used technology to make meetings safer.
"It was a hand-to-hand fight. It was day after day," said Knoll. "But every day we teach in person is a blessing."
"It was a really big effort. Thank you for your hard work," said DeWine.
Back to school
The Youngstown City School District is one of the few counties in the state that has not returned to some form of personal schools.
To vaccinate school staff, the district promised to return to the classroom by March 1, but it doesn't appear that the deadline has passed, despite DeWine's steadfast stance to go back to school early next month.
Failure to meet the deadline is "just not acceptable," DeWine said during a special address on the evening of February 12th. By Thursday, however, he appeared to be wearing off, calling the school vaccination program successful.
He found that the percentage of students completely removed has dropped to 12 percent from about 40 percent in December.
"The fact that some may be missing [the March 1 school opening] is not good, but I think we need to keep an eye on the ball, "he said." We shouldn't fixate on the 5 percent that isn't full. "
Youngstown Schools spokeswoman Denise Dick said Thursday the district expects to announce reopening plans for personal courses early next week.
Meanwhile, the district continues to give coronavirus vaccinations to 1,350 employees. To date, the district has received 1,100 doses of the coronavirus vaccine and has given at least 800 initial shots to faculty and staff. said the district nursing officer last week.
CEO Justin Jennings said during his first CEO update of the year last week The district is focused on giving vaccinations and "keeping people healthy."
One of the challenges when returning to the classroom is transportation. Jennings said he would use incoming federal pandemic aid funds for more transportation, but the ordering process could take months.
Other news
• According to the latest numbers Thursday of the Ohio Department of HealthThe state is reporting 947,389 confirmed or suspected cases of the coronavirus. There were 19,034 confirmed or suspected cases in Mahoning County;; 13,962 in Trumbull County;; and 7,969 in Columbiana County.
• There were 16,611 confirmed or suspected COVID-19 deaths nationwide, including 527 in Mahoning County;; 445 in Trumbull;; and 176 in Columbiana. Mahoning CountyThe 527 reported COVID-19 deaths on Thursday were the eighth among 88 counties in Ohio. Cuyahoga County had the most with 1,656.
• In nearby counties: Strong28,627 cases and 813 deaths; Portage10,646 cases and 150 deaths; and Ashtabula5,584 cases and 137 deaths.
• The number of deaths from COVID-19 in the state has continued to rise thereafter up to 4,000 unreported COVID-19 deaths were discovered in Ohio last week. The Ohio Department of Health has compared an internal death certificate database with a federal database and added these deaths to the state list.
• • Columbiana County Health District announced its coronavirus vaccination clinic for today postponed due to bad weather this delayed the district's vaccine delivery. The transit clinic was moved to Wednesday from 9 a.m. on Wednesday Columbiana County Vaccination Complex In the Columbiana County Fairgrounds. Those who have signed up for today's clinic will be contacted through the district's automated system.
• • The Mayor of Youngstown, Jamael Tito Brown testified Thursday during one Senate Committee on Banking, Housing and Urban Affairs Hearing on COVID-19 Recovery Efforts. US Senator Sherrod Brown The chair of the Cleveland, D-Ohio committee chaired the hearing where the mayor and other witnesses discussed their priorities for recovering from COVID-19, including the need for immediate and just relief.
• According to the Pennsylvania Department of Health on Thursday, There have been 905,995 COVID-19 cases in the state which resulted in 23,413 deaths. The state said the recovery rate is 88 percent. There were 7,880 confirmed or suspected cases in Mercer County and 237 deaths; 5,869 cases in Lawrence County and 178 deaths. in the Mercer County11,662 people received the first of two doses and 4,280 received both; in the Lawrence County6,551 received a dose; 2,402 have both received.
• Health care providers delivered more than 100,000 doses Moderna's COVID-19 vaccine to first-time recipients, although these recordings are intended for people receiving a second dose Pennsylvania Department of Health. As a result, about 100,000 people will postpone their vaccination appointments in the coming weeks, including between 30,000 and 60,000 who are scheduled to receive the second dose.